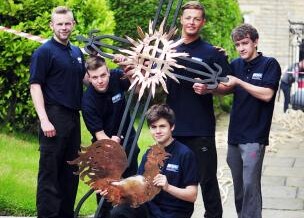 A PIECE of history which has looked down on Darwen for more than 100 years has been restored.
The cockerel weathervane at St Cuthbert's Church was severely damaged during gales in January 2014 and removed by steeplejacks.
But thanks to first year WEC Group apprentices and a team of steeplejacks a replica, including the original copper cockerill, is once again 140ft above the town.
St Cuthbert's church wardens, Chris Rugg and Janet Dean contacted Darwen-based WEC Group in a bid to repair the historic item.
The apprentices spent four weeks working on the steel replica using traditional metalwork techniques which they have learned since studying at the WEC Group Training Academy.
The original was made of wrought iron and had corroded over time. It had also been shot at with an air rifle.
Matthew Walsh, a first year apprentice who lives close to the church, took it upon himself to take a leading role in the project and put a lot of time and effort into it.
He said: "I can see St Cuthbert's Church from my window, and with it being so close to home it really made me want to get involved with the project.
He added: "I think it's important to help out the local community and this is a great way of giving something back."
St Cuthbert's Church was built in 1878 on its present site, and the weathervane was installed on top of the clock tower when the church was extended in 1907-08.
The cockerel sits about 140ft up in the air and the weathervane it is attached to is just short of 10ft tall and weighs about 150kg.
It was reinstated above the clock tower by steeplejacks Terence Gun and Thomas Phillips of High Level Maintenance, who lifted it using traditional steeplejack techniques of ropes and pulleys.
Tony Warburton, director, said: "We have got a real sense of pride to think that we have preserved a bit of our heritage.
"It left a lump in my throat seeing it go back up.
A spokesman for the church said "We are extremely grateful to WEC for its generosity in re-fabricating this historical weathervane at no cost to the church."
Share