Lightning Protection & Lightning Conductors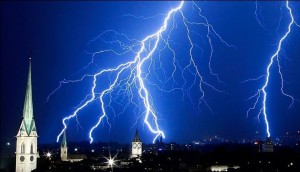 We can provide a whole range of lightning protection services including testing, repairs, modifications to existing systems, together with complete new installations. All work is carried out to BS EN 62305 2011 and BS 7430 'Earthing'.
External lightning protection systems intercept, conduct and disperse a lightning strike safely to earth. Without such a system, a building's structure and the people, equipment and electrical systems around or within it, are all at risk. The installation of a lightning conductor includes, in most cases, the fixing of equipment to the fabric of a building.
Lightning systems should be inspected and tested preferably every year to ensure that they meet legal requirements and recommendations.Our rope and ladder access techniques save time, money and inconvenience, eliminating the need for expensive scaffolding and cherry pickers.
Speaking to your architect or insurance company will help you clarify your basic legal requirements.
Our expert specialist steeplejacks are trained to use the most modern rope access techniques. Our  technicians have a reputation for high quality and cost effective maintenance and inspection at height. We can inspect all types of buildings and structures including all types of ecclesiastical buildings and structures.
We are members of the Steeplejack and Lightning Protection Training Group and are on the Professional Alliance List of Contractors for the National Churches Trust.
We offer a nationwide service and free site surveys.
Useful independent websites with more information about Lightning Protection for Churches.
English Heritage – Lightning Protection for Churches
English Heritage – BS EN 62305
Diocese of Chichester – Lightning Protection and your Church