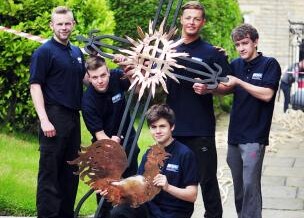 A PIECE of history which has looked down on Darwen for more than 100 years has been restored.
The cockerel weathervane at St Cuthbert's Church was severely damaged during gales in January 2014 and removed by steeplejacks.
But thanks to first year WEC Group apprentices and a team of steeplejacks a replica, including the original copper cockerill, is once again 140ft above the town.
St Cuthbert's church wardens, Chris Rugg and Janet Dean ...
Continue Reading →
Share