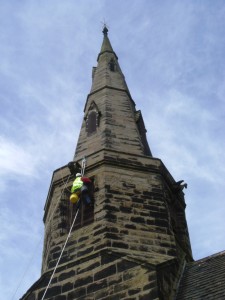 Bird nuisance creates a number of problems on towers, steeples, monuments and roofs including:
Threat to human health from bird droppings.
Bird droppings can be slippery and dangerous in areas of public access.
Structural damage can occur due to the corrosive nature of bird droppings.
Nesting materials can block gutters and rainwater outlets, giving further rise to water damage.
Some species of birds can create a nuisance, including noise, fouling and even causing property damage. We have many years of experience with all types of bird control problems and we offer a number of cost-effective, unobtrusive solutions to bird problems.
These  include netting, spring wire installations and pin systems. Netting comes in a choice of colours and can be used to deny birds access to areas. The installations are usually carried out using rope access, bosuns chairs and steeplejack access equipment, thus avoiding the costs of expensive scaffolding or cherry pickers. Using the modern rope access technique also eliminates scaffolding damage to lawned areas and the blocking of footpaths. It also minimises the disruption to the everyday work of the premises.
The most common problems we deal with are involve pigeons or gulls but we also deal with a range of other bird species.
Spring wire installations, stainless steel posts and spring tensioned wire in one or more rows can prevent birds from landing on ledges.
Pin systems are another perching deterrent using stainless steel rods in single or multiple spine configurations mounted on polycarbonate bases. All systems used comply fully with the requirements of the RSPB, RSPCA, DEFRA and the 1981 Wildlife and Countryside Act.
Above: Completed at North Shore Methodist Church, Blackpool, Lancashire
We offer a bird nuisance solution service nationwide to the public and private sector with minimal disruption to everyday work of the premises.